FINAL EXAMINATION thesis – EMANUEL M. Y. HANOE, S.Hut
MASTER PROGRAM OF NATURAL RESOURCES MANAGEMENT
POSTGRADUATE  University of BRAWIJAYA
Tuesday, June 5th 2018
 Supervisors  :
Dr. Bagyo Yanuwiadi
Dr. Ir. Rudy Sulistyono, MS
Examiners :
Dr. Ir. Harsuko Riniwati, MP
Dr. Ir. Aminudin Afandhi, MS
Title of Thesis:            
Analysis On Public-Based Water Source Conservation (A Case Study in Insana Region, Timor Tengah Utara)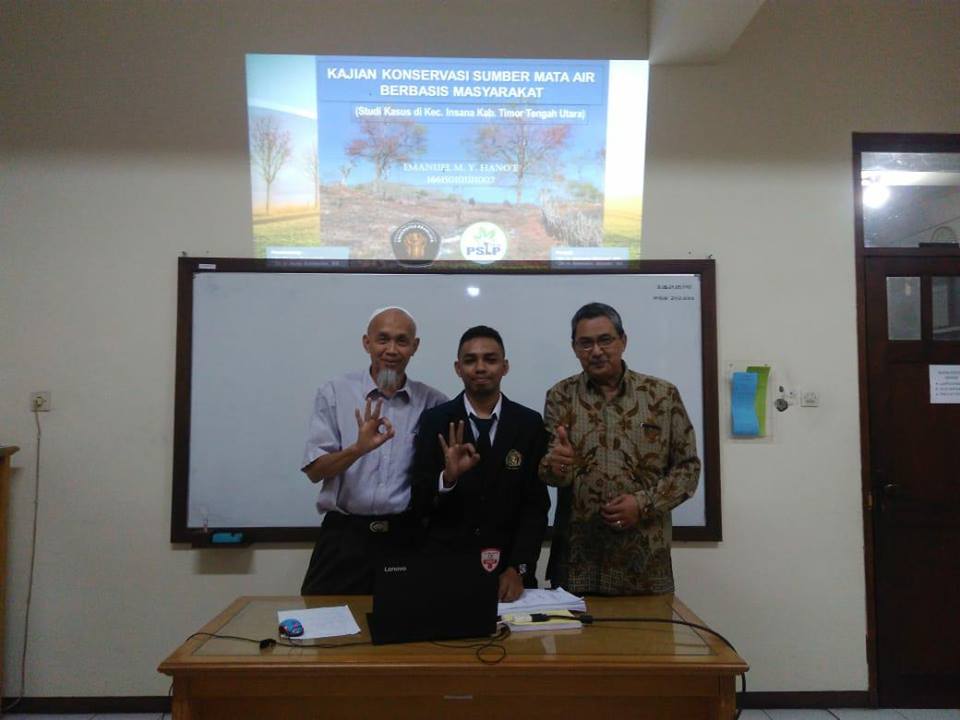 Summary :
Purpose of water source conservation is to maintain characteristics and function of water source, preserve environment around the water source and make sure there is ample supply of clean water now and in the future. Important aspect in water source management is participation from the society, public and private institution in water source conservation program. The objectives of the study were to analyze 1) public participation, and 2) strategies for public-based water source conservation in Insana region. The study was descriptive quantitative study. Arstein ladder was used to identify public participation and SWOT analysis was used to develop the strategy. The results of the analysis show that based on the Arstein ladder, the public participation was categorized as informing. Furthermore, based on the SWOT analysis, the water source conservation strategies were conducting conservation program, minimizing social conflict, establishing regulations on conservation areas and water source preservation, conducting human resource development program for the locals.