ORDIK 2018 S2 & S3 UNIVERSITAS BRAWIJAYA
UB Welcomes 1626 Postgraduate Students
Universitas Brawijaya (UB) welcomed as many as 1626 Postgraduate new students. The welcoming program was held on Saturday (08/18/2018) in Samantha Krida UB and was attended by 1333 students of the Master and 293 Doctoral Programs. Also present at the welcoming ceremony, UB Chancellor, Prof. Dr. Ir. Nuhfil Hanani AR, MS. and its ranks; Director of UB Postgraduate Program, Prof. Dr. Abdul Hakim, M.Si and his staff; and Faculty Deans in the University of Brawijaya environment.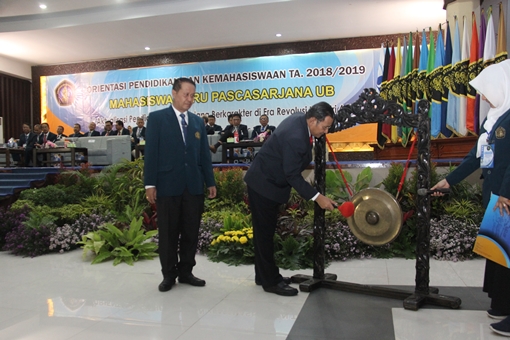 In his speech, Prof. Hakim explained that the industrial revolution era 4.0 was felt by many parties. In the learning process within the University must also apply technological sophistication.
"Through information transparency, it is expected that there will be no more face to face learning. In this 4.0 era, technology has become more sophisticated with various applications that can be used and developed further, "explained Prof. Hakim.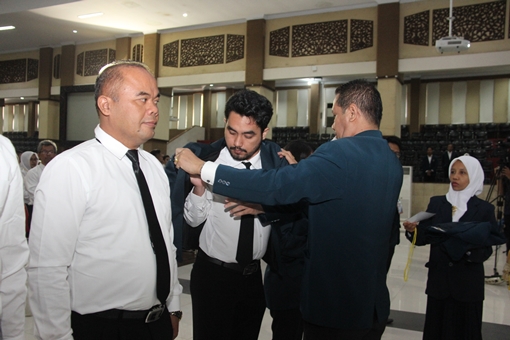 Furthermore, UB's Chancellor advised Postgraduate students to improve the quality of themselves by graduating well and professionally.
"In later lectures, I hope to be able to concentrate fully so that it will graduate on time with the cumloude predicate," said Prof. Nuhfil. Every Postgraduate graduate in UB is required to publish international publications with the assistance of mentors and resource persons with the direction of their making.
The series of Education Orientation activities (Ordik) welcoming New UB Postgraduate Students is also decorated with material by Sujanarko from the Chair of the Directorate of Education and Services of the KPK. Sunajarko filled out the material on Prevention of Corruption in the Public Service Sector. In line with Ordik's own goal, which is to prevent students from committing criminal acts of corruption in the environment later.
In addition to material from the KPK, Postgraduate Ordik is also filled with scholarship material and scientific journal making.